The Santiago Bernabeu was nearly filled on this occasion. Real fans all around the world were expecting the "Spirit of Juanito" to appear on this day and fill their lives with some excitement and hope for the first team. Everything was set
for the first team to redeem itself against the first (surely, of many) ridicules of the season when they lost to third division local club Alcorcón 4-0, two weeks ago.
Coach Manuel Pellegrini decided to rest striker Benzema (after 8 full time appearences) and betted on Dutch veteran Ruud van Nistelrooy and captain Raúl to lead the team to victory after a prolonged injury period.
However... After watching the first half, the blood thirsty fans at the Bernabeu had lost all patience with the team and manager. The redemption seemed so ridiculous and further than ever with a 0-0 at half time and no signs of danger created by the local side's attackers.
How could a team that expected to score 5 goals against a very inferior team who beat them 4-0 two weeks ago present itself to the occasion with an incomplete four man defence like: Arbeloa (left back), Pepe, Albiol and talent-full Lassana Diarra as a converted right back - in conjunction with a centre midfield with slow passing and skill-less Mahmadou Diarra and Fernando Gago?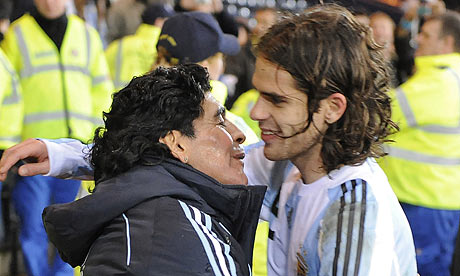 Diego Armando Maradona, present at the Bernabeu, watched incredilous, as Real fell far from meeting expectations, and saw how Gago and Diarra were completely incapable of g etting the ball into the opponent's half. It was not the only pr oblem of course. Slow veterans Raúl and Van Nistelrooy were extremely static and stayed very close together, leaving recently called up (why on earth did it take Diego so long to do so..?) Pipita Higuaín no space to manouvre and forcing him to play very far from his danger zone.
The funny thing is that talented and creative players such as Van de Vaart (on the bench) and Guti (not called up due as a punishment for aggresively trying to encourage the team in the first leg's first half) were not to be seen on the pitch. After Arjen Robben's last minute move to the Bayern Munich, Real was left with no real wingers. However, the few team members who could fit into such a role, Marcelo (on the bench), Drenthe (not called up for technical reasons, even though he hasn't played for a couple of matches, and hence is rested), and Sergio Ramos were nowhere to be seen.
Sergio Ramos' situation, is another ridicule by the club on its own. Ramos had been booked during the previous league match, against local rivals Atlético Madrid over the weekend. Pellegrini announced that Ramos was not called up for the "King's Cup" game against Alcorcón, because of this booking. However, no one, and that is no one, realised that this booking did not apply to another tournament and was on hold at the national league committee. This reminds me of the last season, when Lass Diarra and (now former Real player) Klaas Jan Huntelaar joined the team in the January transfer season, and once again, no one in the club realising that both of them would not be allowed to play the Champions League that season. No one...
After the 15 minute break, with no Guti to cheer the team to victory, Real stepped out to make a difference. Van der Vaart came on as a substitute (finally) for Mahmadou Diarra, who was clearly very rusty in his game and lacks match practice. Van der Vaart was very active, and his contribution meant the team actually started to attack, and believe (not that they could go through) but that they could actually score a goal.
When fans saw Marcelo warming up minutes later, it became clearer that perhaps a light bulb had actually gone on in Pellegrini's head, however, then came the most controversial decision. Pellegrini decided to take Lass Diarra, by far the man of the match at the time, off the pitch to put Marcelo in the pitch. This meant that he maintained a 4-4-2 scheme using Marcelo as a left back (and not as a left winger as in the previous two games). Big mistake, Manuel. The crowd immediately gave up on the manager, and asked for him to be sacked. No surprise at the Bernabeu. One thing is to not meet expectations, but a whole other one is to have €250m worth of transfers one season, and to lose to a club with a transfer budget of less than €100, 000, by 4-1 over 180 minutes. That, Manuel, is way below expectations - and there is definitely a lot of fault to be taken by the manager.
The question is, how long will he last?